Like we say it in the Kivu (in Eastern DR Congo) and in Swahili language spoken there, 'leo njo leo'. This means, 'today is the D-day/the long-awaited day'.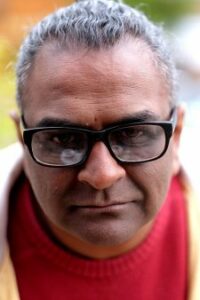 My collaborative project with Jaydev has successfully concluded and I am delighted to present you the first Afro-Raga song/music we've created together. By the way, an excerpt our song was played on Front Row, BBC Radio last Wednesday night. https://www.bbc.co.uk/programmes/m000ktyp
Hope you like it and please sing, dance and play along!
Before we do just that, here are the African musical traditions that have made it into our production, humming; chanting; vocals/singing; call-response; harmonies; lyrics and ululation.
As for Indian musical traditions, we have used the Raga (scale) Bairagi Bhairav played on the Bansuri (Indian bamboo flute). This is most obviously demonstrated in the Alap, which is the opening section. Other instruments include the Tanpura and Shruti box, which provide the droning sounds present throughout the composition. The prominent percussion in the piece is the Tabla supported with various pieces of hand percussion that are used on the Indian subcontinent.
Man, I simply broke loose in the free sections in the intro and bridge/middle parts of the song!
Our song is called 'Dunia', which means the world in my mother tongue Swahili. Dunia can also mean humans, the earth and even life.
According to Jaydev, 'Duniya' means world/earth too in Hindi. I've heard as well that this word has the same meaning in Arabic (share in the comment section if you know).
In our song, 'Dunia' means the world, humans and life.
Lyrics and translation
Ah Dunia, Dunia, Dunia Ni Mambo Dunia – Ah Dunia, Dunia, Dunia Ni Mambo Dunia (The world, the world, the world is crazy the world)
Ah Dunia, Dunia, Dunia Hadisi Dunia – Ah Dunia, Dunia, Dunia Hadisi Dunia (The world, the world, the world is a tale/story) 2x
Dunia Ni Mambo – Dunia Ni Mambo (The world is crazy)
Dunia Hadisi – Dunia Hadisi (The world is a tale/story) 2x
Eeh Eeeh, Eeh Eeeh 2x
FOR A BETTER LISTENING, USE A SPEAKER WITH A GOOD DOSE OF BASS.
To stay updated on other projects I will be doing in the future, keep visiting this blog.
I will be uploading, on here, more posts; songs I write; performances I do and general topics related to my practice.
I will soon be able to offer my normal services and new bespoke ones online. Fees are based on Musicians Union rates.
Services I currently am offering ar
African singing workshops
A training in using African musical traditions as technique to create interactive pieces and performances
Improvisation sessions with me around singing, song writing and African polyphonic singing/harmonies
For more information on these services or inquiries, send an email via the contact page.sremmanuela@googlemail.com or call on (0044)7868591070
Until next time, please kindly subscribe for this blog (AT THE BOTTOM OF HOME PAGE);follow me on Twitter (Emmanuela Yogolelo or @emmayogol1); like; share; spread the word and leave constructive comments.
Thank you.