EMMANUELA YOGOLELO BIOGRAPHY
Originally from the Upper Zaire and Kivu in the Eastern DR Congo,
E
m
m
an
uel
a
Yogolelo is a singer-songwriter, live performer, workshop facilitator, speaker and
cultural leader.
Emmanuela developed her passion for music from an early age, soaked as she was
in the musical surroundings of her native land. She was exposed to the traditional
acoustic music of the Shi and Mbuti pygmies, the musical genres of neighbouring
Rwanda and Burundi, the music of the streets, the radio and the local nganda pubs.
Her mother sang whilst performing her household chores, the local fishermen sang
on their boats, the farmers whilst carrying out their daily tasks. From the age of six,
Emmanuela performed traditional songs as part of family weddings and funerals and
her influences come from far and wide, including African gospel, Afro jazz and
Congolese styles of music, such as Rumba, Seben and Agwaya.
Favourite artists i
nclude Kadjanine, Lokua Kanza, Papa Wemba, Rebecca Malote and Richard Bona.
As a solo singer, in a group with other musicians, or as part of the multi-award
winning Afro-Celt Sound system, Emmanuela has proved herself an engaging
performer with a strong storytelling style.
She has appeared at high-profile venues
and festivals throughout the UK, including Band on the Wall, The Royal Northern
College of Music and Bridgewater Hall in Manchester and at London's Barbican.
Festivals include the Women of the World Festival on the South Bank, Shambala,
Cropedy, Manchester International Festival and Manchester Jazz Festival.
Emmanuela has recently been commissioned by the prestigious HOME arts centre
in Manchester to create and perform a new interactive live performance as part of
the forthcoming annual Horizons Festival. The piece is being created as part of a
wider project in which she is exploring climate justice activism through music and
other art forms.
Such music and passion for her native culture led Emmanuela to co-found the
Manchester-based Amani Creatives alongside other fellow African artists back in
2015. The organisation focuses on profiling, promoting, celebrating and preserving
African arts and culture in all its forms.
Read Emmanuela's blog to
find out more about current work with other artists, partner organisations and audiences she is partnering with.
When African Musical Traditions Inspire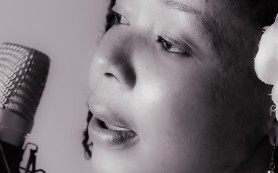 Live music performances
From festivals and concerts to regular gigs and specific performances such as conferences and buffets, Emmanuela Yogolelo provides live music performances tailored to circumstances, topics and venues.
Whether it is a quintet or a trio, Emmanuela Yogolelo's performances are full of tales and stories behind the songs as well as interactive elements with the audience.
Her heavy acoustic and sometimes electric music is a combination of authentic, fusion and world music